Det er omkring 10 Ã¥r siden jeg sidst sÃ¥ Metallica (og det var vidst pÃ¥ Roskilde), men denne gang havde Lau spurgt om vi ikke lige skulle trille forbi en af deres 5-dobbelte koncerter i Forum. Det gjorde vi sÃ¥…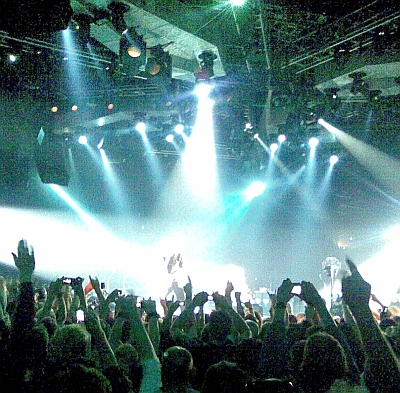 Det var en p̴ alle omr̴der utroligt fed koncert Рog s̴ manglede der alligevel lidt.
Scenen var formidabel – fantastisk med en scene i midten. Det er sÃ¥ let at komme tæt pÃ¥ uden at skulle stÃ¥ der flere timer før koncertstart og sÃ¥ giver det oplevelse af at være tættere pÃ¥ bandet.
Lyden var perfekt. Der var skruet godt op for volumeknappen og jeg mÃ¥tte have propper i konstant – og selv der lød det meget højt :-)
Det var METALlica, der spillede i aftes. Der var kun One, The Day That Never Comes og Nothing Else Matters, som var egentlig stille numre (og de 2 førstnævnte er kun stille i første halvdel af nummeret). Derfor var headbanging øverst på listen over koncertudskejelserne :-)
Der manglede alts̴ lige nogle hits Рhvad med Creeping Death, Fade to Black, For Whom The Bell Tools, The Unforgiven, Whereever I May Roam, Battery, Damage Inc., Last Caress, Four Horsemen, Whiplash, Sanitarium og alle de andre? Det var lidt surt at 6 af de 18 numre var fra den nye plade, som ikke spiller helt lige s̴ godt som de fleste andre skiver (med undtagelse af Re-Load og Garage Inc.).
Anyway – det gør de sgu godt. Hetfield er en uhyggelig mand helt tæt pÃ¥ og selvom Kirk efterhÃ¥nden ligner en afdanket alkoholiker sÃ¥ rykker de vildt. Jeg mÃ¥ især tage hatten af for den "nye" mand Robert Trujillo pÃ¥ bassen. Han kan altsÃ¥ spille 32-dels takter pÃ¥ den bas som jeg ikke har hørt for. Fuck han er hurtig :-)
Billedet nedenfor er taget under sidste nummer; Seek and Destroy, hvor Hetfield kommanderede lysene tændt i salen.